Hello to Strobing and a Natural Glow :); Sephora Singapore launched the most coveted makeup brand – Hourglass Cosmetics in April (avialable in the ION Orchard and Ngee Ann City Stores). Hourglass Cosmetics products have been on my waiting list for a long, long time. While they are available online on net-a-porter.com,  I have never been fond of  buying makeup online, I think makeup products need to be tested on your skin, so I was ecstatic when they finally launched in Singapore.
Hourglass Cosmetics is a luxury makeup brand that focuses on its commitments to innovations in makeup and all their products enhance your natural beauty. And if you like all things pretty then you will love their luxe packaging. They have a wide range of products but when I did my research I found that the two must have products are their Ambient Lighting Powder and their Veil Mineral Primer. So I purchased both to begin with and I am in love with their results.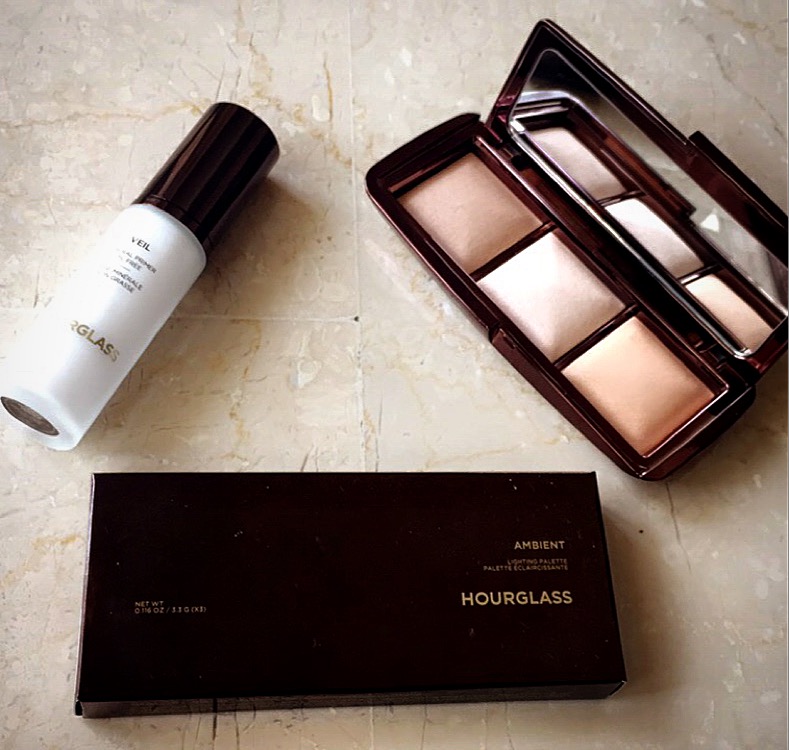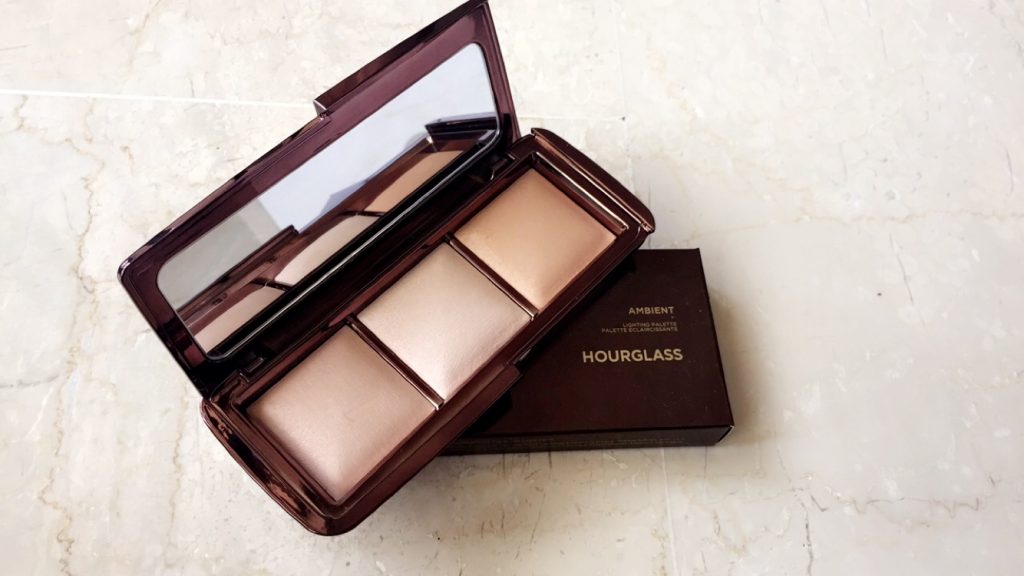 I bought the Ambient Lighting Powder for (S$97) ; this is quite expensive for a highlighter or a finishing powder but after using it I truly had a flawless complexion. The texture of the powders feels very creamy, soft and luxe. There are three very pigmented shades in the palette (from left to right)
Dim Light : is a "neutral peach beige powder"  with very subtle shimmer. I used this colour as a finishing powder, instead of a highlighter because it is barely visible against my skin tone. But when I apply it at the end of my makeup routine it blends in all my makeup and helps to cover any imperfections. I really love using this and have made it part of my daily routine because none of the highlighters or powders I previously owned could achieve this for me.
Incandescent Light: is a

"pearlescent powder"

that is a light beige with a gorgeous shimmer. This colour is exclusive to this palette only and it worked best with my skin tone. I think this is perfect for highlighting your cheekbones and giving you a natural shimmery glow, I love the extra shimmer this powder provides.
Radiant Light:  is a

"golden beige powder."

  with a subtle golden shimmer. This shade works best for pale complexions rather than a medium or dark tone, its purpose is to add subtle warmth to your complexion. So for my skin tone this works well as a contour.
These Ambient Lighting Powders are not exactly highlighters, Hourglass Cosmetics describes them as finishing powders. But what they do for my skin is that they give me a natural glow, that almost comes from within. The powders blend so well into your skin and give you such a smooth and soft appearance, I found that just amazing. Several of my friends actually asked me what I've been doing to my skin, have I been using new skin products or am I glowing because of a facial?
I have used several highlighters from MAC, Bobbi Brown and Benefit but the glow my skin got after using these powders was just remarkable. The product definitely helps to cover skin imperfections and minimises pores, so your skin naturally looks perfect.  I use Dim Light all over my face after I've applied my makeup, then I would brush Incandescent on my cheekbones and the areas I highlight. On days when I want a more warmer golden glow I would apply Radiant Light to the areas I would contour my face. The powders work well on my combination skin and last 4-5 hours in Singapore's humid climate. But if you have oily skin then you would still need to add a setting powder to mattify your skin.
I think if you want a natural subtle glow then you should definitely try this palette. But if you are specifically looking for a strong highlighter then this isn't the right product for you (because the actual highlight or shimmer of this product is not strong enough).
I also bought the Veil Mineral Primer (S$84) and was so excited to try it out. It can be so difficult to maintain your makeup all day long in Hot and Humid Climates, I am always looking for products which would help make my makeup last as long as possible and remove the shine from my face. After using this primer a few times, I fell in love with this product, I think its perfect for combination skin. You only need to apply a small pump after your moisturiser and before your foundation. This product is very smooth, silky and lightweight so it doesn't clog your skin or feel greasy. After using this primer, believe me my makeup lasted up to 8 hours for an event. As a primer this also helps to minimise pores, fine lines, conceals any redness and the best part is that it includes SPF 15 protection. This is truly a makeup must-have especially for the climate I live in :).
Both the products I bought were different to anything I have purchased before and I know that they are expensive; But the products deliver to perfection, I now understand all the hype around Hourglass Cosmetics and I can't wait to try more of their products soon :).
Have you tried Hourglass Cosmetics Products? What did you think?